If you have questions about your data stored in Salesforce, reports are how you get answers. First though, you'll need to specify exactly what you want to know. Once this has been defined, then you can use configuration options to create a useful and personalised report on your data.
Essentially, a report is a list of records which meet certain criteria. They can be all of one object, or alternatively they can show records of a primary object and related objects. Filters can be applied to narrow the focus. Columns are added as required. There are four report types: tabular, summary, matrix and joined. More on these later.
Reports are used to make dashboards. Dashboards show report data graphically such as with a bar or pie chart. This can be useful for getting a high level and easily consumed view of your data.
As an administrator the first thing you'll need to do when generating reports is to gather requirements. This will mean asking some questions such as what date range or type of records to include.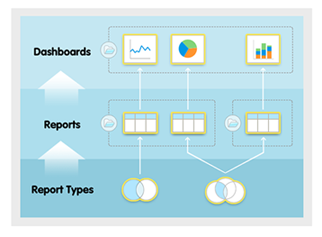 To create a new report:
Go to the Reports tab
Click New Report
Choose a report type
Click Create
Configure the filters
Customise fields to display
Choose report type (e.g. tabular, summary, matrix, or joined) grouping if necessary
Add a chart if desired
Run Report
Click Save As
Name it and choose which folder it is stored in
Optionally, add the report to an object detail page by going to its page layout -> Report Charts
The four report types are:
Tabular. Similar to a spreadsheet, they are an ordered list of records. Limited ability to use these in dashboards.
Summary. These are like tabular reports but they allow data to be grouped by certain fields. For example it would show the records grouped into ones that shared the same type. These are the most common reports. Good with dashboards.
Matrix. Like summary reports but they allow you to group by two fields instead of one. So for example you'd see records grouped into record type, but then also by another field such as record owner. It's good to click "hide details", as this will clean up the display. Is used well with dashboards.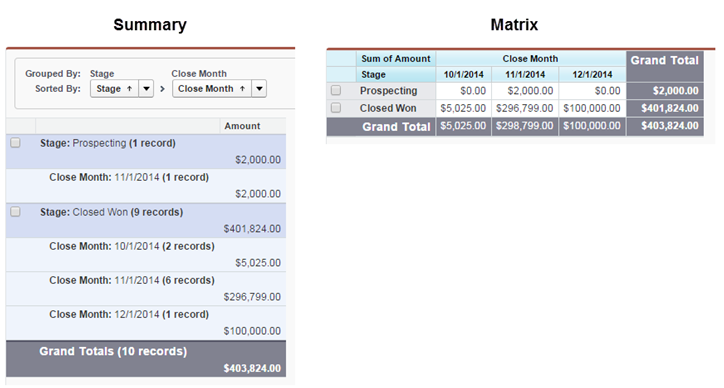 Joined. Joined reports allow you to essentially view multiple reports in one. Reports with their own types, filters etc are displayed in blocks in the space that would usually be just one report. You can add up to five blocks. These aren't compatible with dashboards.
To create a dashboard:
Go to Reports tab
Click New Dashboard
Drag a chart type onto a component
Drag a data source onto the component
Give it a title
Click the wrench icon for additional configuration options
Click Add filter for more granular control of data displayed
To make it a dynamic dashboard (instead of running user defined), go to the drop down in the top right corner and check "run as logged in user"
Click Save and Run Dashboard
You can subscribe to automatically run reports and get notifications when a report is updated. To do this:
Go to report editor
Click Run Report drop down menu
Click Schedule Future Runs
Fill in details
Click Save Report Schedule
Follow a report or dashboard simply by opening its page and clicking Follow. If you don't see this go to Setup -> Feed Tracking -> Reports -> Enable Feed Tracking.
You can share snapshots of a dashboard to Chatter too. To do this first enable the feature, go to Setup -> Reports and Dashboards Settings -> Enable Dashboard Component Snapshots.
You can also find a range of prebuilt reports in the AppExchange. Once installed these can be accessed in Setup -> Installed Packages.