I just completed a module on Trailheads called Salesforce Cloud Benefits. There are two units: understand the age of the customer and succeed with a complete CRM.
As someone who regularly reads and analyses entire books, I'm surprised at how difficult it is to talk about these two brief units. At its very core though it can be distilled to a simple message: the present and future of business is customer-centric, and CRMs are the best way to succeed in that environment.
Overall the impact of this module has been to make me feel that it's smart to hang one's hat on Salesforce over the long term. I think that's the point. What other company is allowing you to provide exactly what your customers demand? It is viscerally convincing and yet somehow dissonant. If I take a minute to cool off from the psychological tactics, intellectually it probably is smart for many businesses to use Salesforce.
I'm convinced that different modules come from different voices within Salesforce and this one came directly from the marketing department. They've placed themselves at the very centre of an ongoing movement (the age of the customer) which threatens to leave non-adopters behind. I'm curious how this movement would be received in academic circles.
Understand the age of the customer
This doesn't refer to checking the customers' ID, but rather understanding that we are in a new time where customers expect a personalised experience. This new phenomenon of business and technology was virtually put on par with the steam engine and electricity.
I found it enlightening in a philosophical sort of way, and it even took about an hour to sink in. Impressive. It made me realise for the first time what Salesforce's broader thinking about the world is and I feel that helps me as a consultant in a big way. Here's what they believe businesses need to do in this new age:
Put the customer at the centre of everything they do
Have a single view of the customer across touch points—email, in-store, and online
They talk about something called the customer gap. Is this a made up problem for businesses meant to aggrandise CRMs? Perhaps, but I think there is value to it.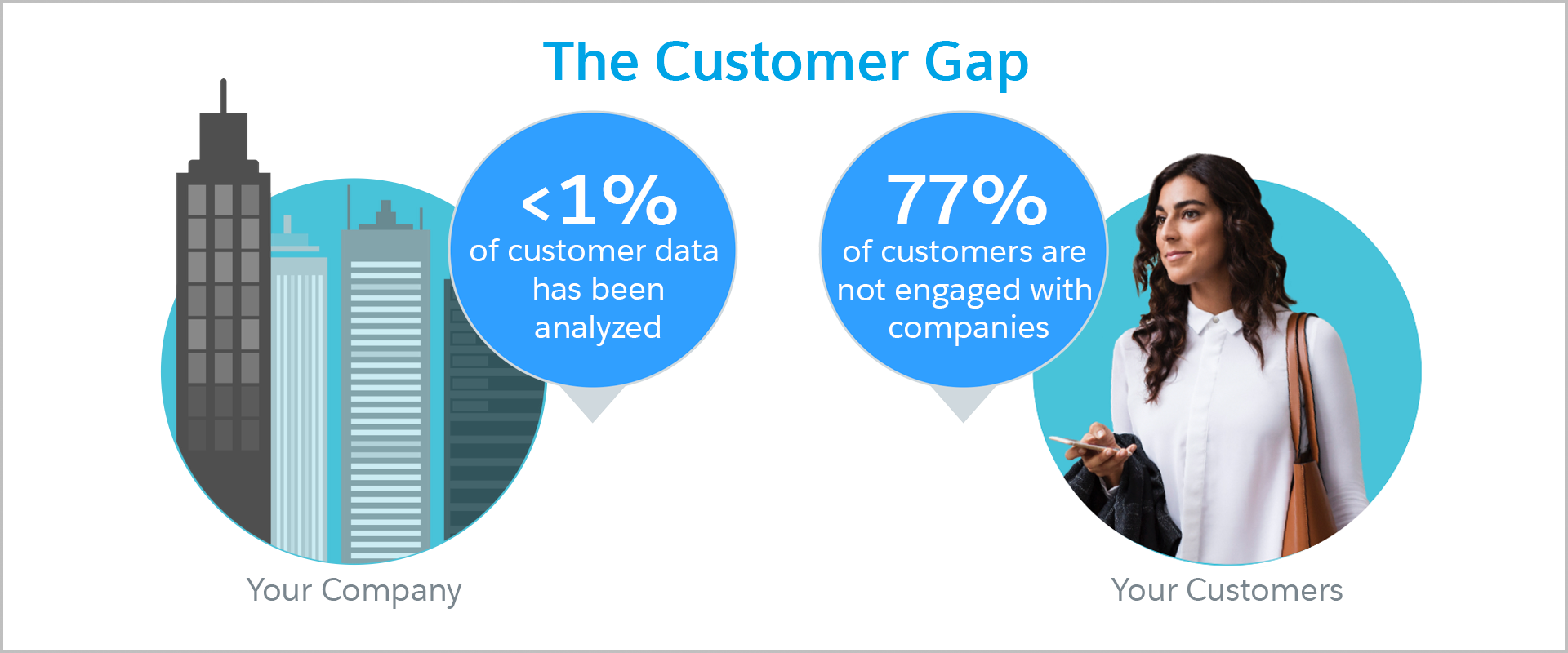 In the modern world customers expect businesses to know them. Closing "the customer gap" requires using the data from customers to create personalised experiences, product recommendations, promotions and support.
Succeed with a complete CRM
I found this unit useful because it made me think of Salesforce not just as the user, but as the user pre-purchase. Or of how Salesforce senior management would talk about their product on the highest possible level. From a bird's eye view. In particular I was struck by the realisation that Salesforce is comprised of:
The CRM with 10 core apps (service cloud etc)
3,000+ AppExchange partner apps
Custom apps built on the Salesforce platform
The ability to connect with outside business systems
It seems so simple when stated like this. Of course a business won't use most of it. The idea is that they are available on the wider system, as required.
This image pretty much sums up the entire module: our technology allows you to make your customers much happier.

I think this module needs another unit to make customers realise the drawbacks of Salesforce, because their surely are some. Mostly the high price and associated opportunity cost. I think Trailheads should be a place of learning, not advertising. A unit about how to think whether it's a good decision financially would build trust.