Salesforce1 is a mobile app which allows people to access most of their data on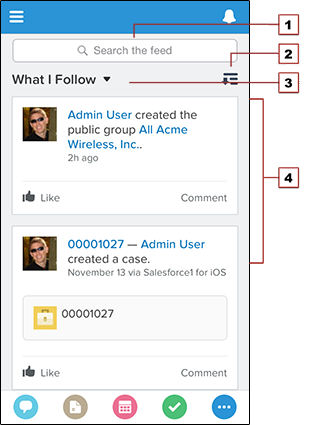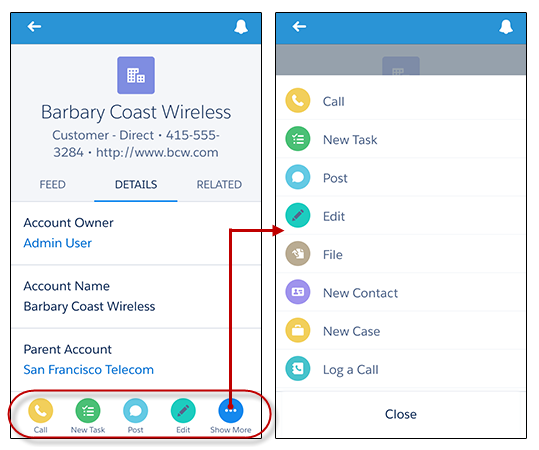 Salesforce from their smart phone. By its nature as a limited version of Salesforce and something that's used "on the go"; it's particularly important for the administrator to set it up effectively. Ahead of time.
If Chatter is enabled and the Salesforce1 navigation menu doesn't have something else set as the top item: the user's Feed will be their landing page. In this way the app feels a bit like using Facebook on mobile.
In the feed, there is: (1) A search bar, (2) sort and filter options, (3) feeds drop down menu, and (4) feed items.
There is also an Action Bar, which displays different actions based on which page you're on. In the feed it shows global actions. In records it shows various items such as: productivity actions, standard and custom buttons, standard Chatter actions, and global and object-specific actions assigned to the layout for that record type.
There is also the navigation menu. This is somewhat like the navigation menu in Salesforce, except it displays vertically rather than horizontally.
The navigation menu has four parts. A search bar, menu items (which you've selected to be listed first), smart search items (displays recently searched items) and an apps section (with any items you place below the smart search area).
At a lower level there is the record view, which is unique to each object. Similar to Lightning, it has three tabs: feed, details and related lists. It also has a highlights section up the top, which is determined by the compact layouts for that object.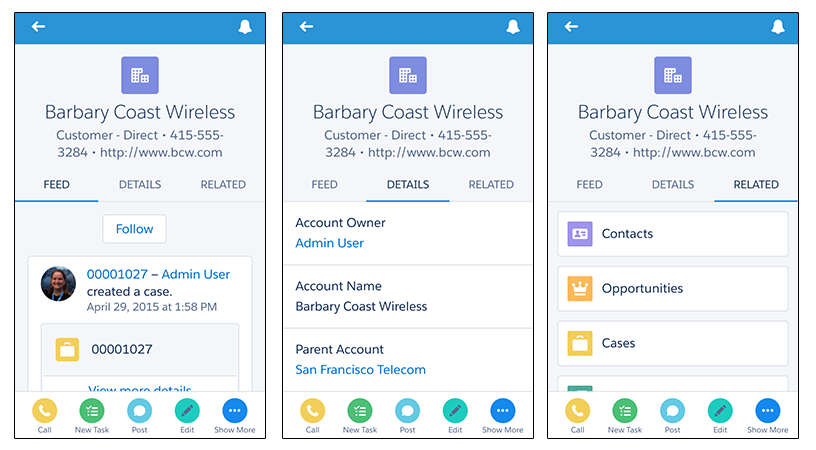 -Based on Salesforce Trailheads-