-Based on Salesforce Trailheads-
The force.com platform differs from traditional databases in that it uses relationship fields rather than primary and foreign keys to establish relationships. A relationship field is a custom field on an object which contains a link to another record.
Relationships allow you to display data about other related object records on a particular record's detail page. It works by storing the ID of the parent record and optionally providing user interface representations in both the parent and child records.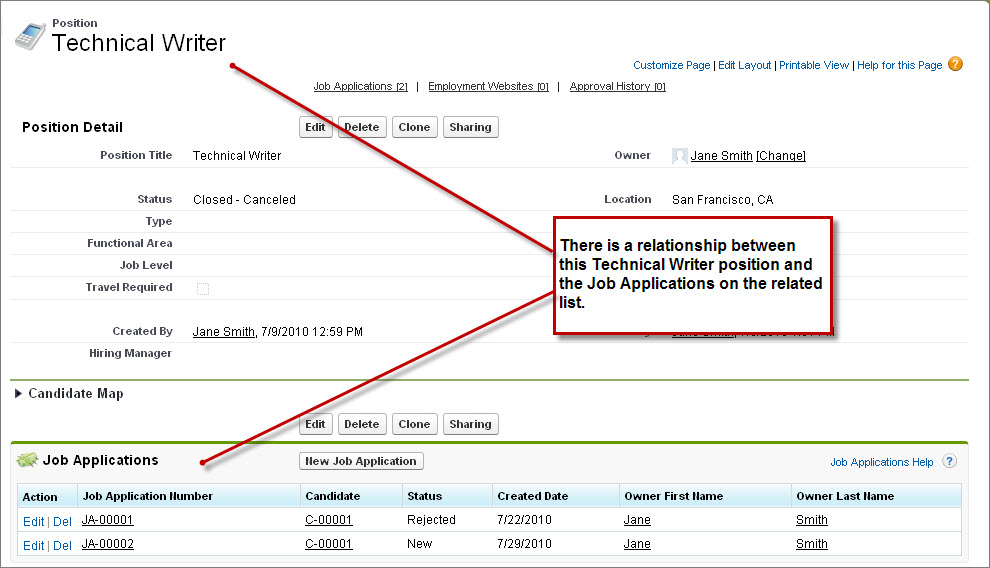 There are two main types of relationship fields:
Lookup. Links one object to another object in a looser fashion. Allows related lists etc.
Master-Detail. Links one object to another more closely. This means that child inherits various settings from the parent, is deleted if its deleted etc. Master-Detail is the only one that can use rollup summary fields.
Master-Detail is usually used when there is a direct dependency between two objects. Lookup relationships are appropriate when a relationship between two objects is required in some cases, but not always.
To create a Lookup relationship:
Go to Setup > Objects
Click the object that will be child object
In the Custom Fields & Relationships related list, click New
Select Lookup Relationship, and click Next
In the Related To drop-down list, choose User, then click Next
Enter Field Label
Click Next
Click Save
To create a Master-Detail relationship:
Go to Setup > Objects
Click Child Object
In the Custom Fields & Relationships related list, click New
Select

Master-Detail Relationship

, and click Next
In the

Related To

drop-down list, choose parent object, and click Next
Click in the

Field Name

text box and enter the field name
Select the

Read/Write

radio button
Check

Child records can be reparented to other parent records after they are created 

if you want to be able to change the relationship field's value. If you leave this box unchecked, you can't change the value in the future.
Click Next
Accept the defaults in the remaining three steps of the wizard.
Click Save
There is also something called many-to-many relationships. This is when a record can be associated with several of another object's records. And that object's records can in turn be associated with many of the first object's records. For example: one position could be posted to many employment websites and one employment website could list many positions.
This is generally achieved by creating a junction object then creating two master detail relationships for it.

To create a Many-to-Many relationship:
Go to Setup > Objects
New Custom Object. Name the object something relevant such as Job Posting. Auto-number is recommended name type
Go to the junction object and create two Master-Detail relationships looking up to the two parent objects
Whenever there is an instance of a Position being associated with an Employment Website for example, create a new Job Posting record and link it to the two relevant records.