-Based on Salesforce Trailheads-
Organisations typically have specific needs which aren't met by standard Salesforce functionality. Fortunately the Salesforce platform allows you to easily build custom objects and fields. These allow you to create a unique system which stores data just right for your organisation.
Custom objects would be used to store records of a specific type of data, such as "Candidates". Whereas custom fields would be used to track relevant information about each candidate, such as "years experience". Custom fields can be of different data types.
To create a custom object:
From Setup, enter Objects in the Quick Find box then select Objects
Click New Custom Object
Fill out the fields such as Label, Object Name etc
(To set up a new tab) under Object Creation Options, select Launch New Custom Tab Wizard
Click Save
On the New Custom Object Tab page, select a style
Keep the defaults for the rest of the Tab Wizard, and click Save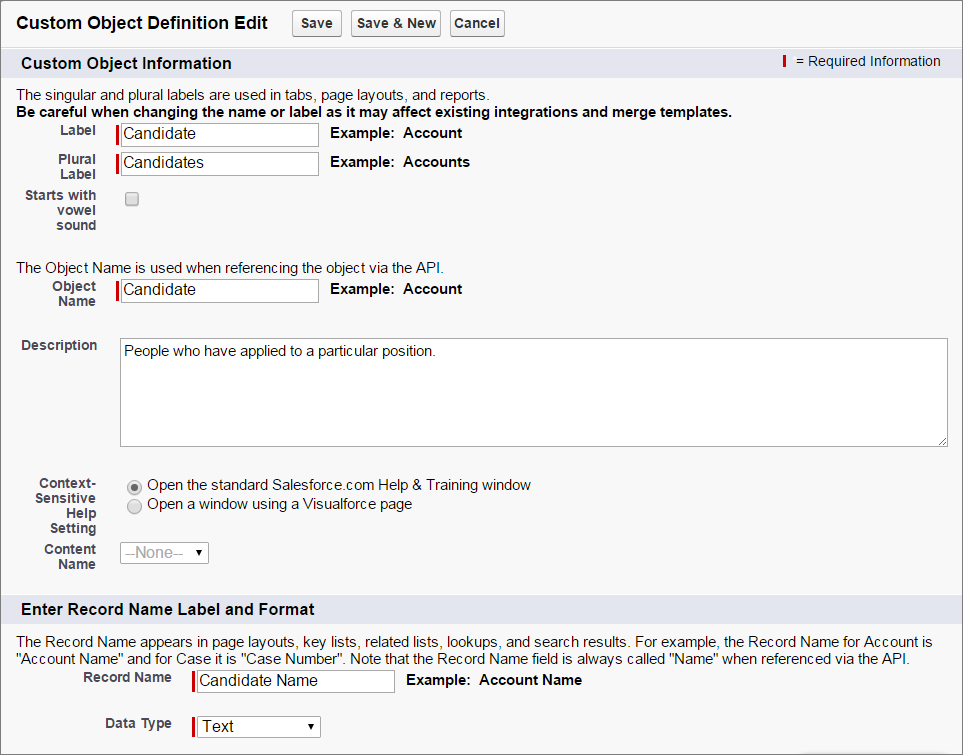 To Create a new field:
From Setup, click Create | Objects and click the object's name
In Custom Fields & Relationships, click New
Select data type and click Next
Follow steps and Click Save (the steps are different depending on the data type)
It's recommended that you create help pages for each custom object, so users understand and know how to use them. To create a simple help page , using Visualforce:
From Setup, enter Pages in the quick find box then select Visualforce Pages
Click New
Enter a label for your page
Enter a unique name for the page
In the Visualforce Markup area, enter information about custom object. For example dependencies, next steps, or other tips for using the object.
Next, reference the help page you just created from the Object it pertains to. To do this: edit the custom object, select Open a window using a Visualforce page, choose the page you created, click Save

h1>Help for the Candidate Object

The Candidate object is for identifying and tracking individual candidates for job positions.

Sort candidates by Name, Location, Last Modified, and Prospect Rating.

<
Now when people click "Help for this Page" on the custom object they'll see the page you created.
There are some best practises for creating custom objects and fields. For example:
Make sure the naming is unique and easy to understand
Choose field types etc which are clean and efficient