-Based on Salesforce Trailheads-
App Exchange is the official online marketplace for Salesforce apps and components. When evaluating options to solve a business problem, App Exchange should be on your short list of options to explore. This can save a lot of time, money and energy because you may find what you need prebuilt rather than having to make it yourself.
It's recommended to start with an AppExchange strategy before you dive in. Here are the three steps:
Identify the departments using Salesforce.
Research AppExchange apps for the business cases provided by your stake holders (make sure you thoroughly understand what is required).
Download apps into a sandbox or Developer edition org to try them out. This is an important precaution to stop the app conflicting with your current setup or data in unexpected ways.
Evaluate your choices. Consider budget, app functionality and any feature gaps.
Execute and document. Prepare your users for the change in user experience (if any), such as by providing training or documentation.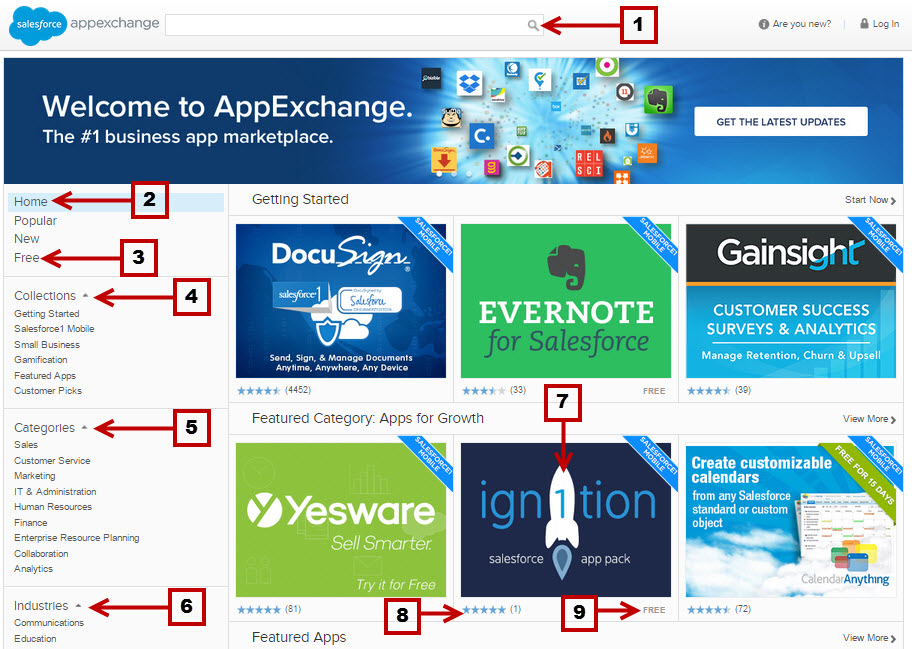 Search for apps by keyword.
Return to this home page by clicking the Home link.
Browse free apps.
View collections, including app collections for Salesforce1, Gamification, Small Business, and Getting Started.
View Categories, including Sales, Service, Marketing, Finance and Analytics.
Browse by Industry, including Nonprofits, Financial Services, Healthcare, Life Sciences and Media.
Click on any app to view details about that app.
Preview the average rating and number of reviews for the app.
Easily identify if the app is free at a glance.
To install an App, go to its page then click Get it Now. There will be some options here such as where to install it, who can access it etc.
To access installed packages go to Setup > Build > Installed Packages. Open up an installed package record and there are some options such as uninstalling it or viewing its components or dependencies.
An important distinction is between managed and unmanaged packages. Managed are often paid for and you can't edit them, however you gain the benefits of updates etc. Unmanaged you are able to edit yourself.